Customer

Comments
Click Here to view to view what my customers think of Babcock Horse Training, LLC.
---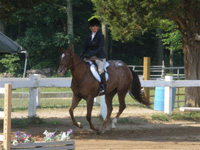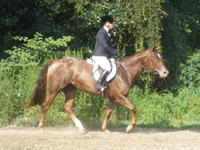 The Traveling

Horse Trainer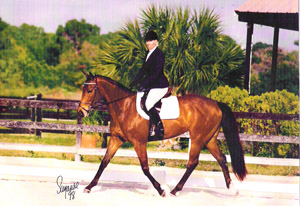 Good horse training takes time and effort. It involves empathy, timing and instinct. I want the horses and riders I train to be confident and happy. And successful.

A new candidate is evaluated by watching him or her on the lunge line and then under saddle. Conformation, disposition, and goals are all discussed, as well as tack and nutrition.

If a horse has a fairly solid education, the under saddle work will expand. If not, lunge work can build confidence and routine which helps the unbalanced, scared or rebellious horse.

My techniques are classic and correct, step by step, building rhythm, balance and obedience.

Cavelletti work is important, as well as circles, serpentines,working on the long and short center line along with lateral work, bending and ultimately collection.

The rider maintaining a proper position is extremely important as well. Good equitation is paramount.
The owner, rider, trainer and horse must all be on the same page. It is a great place to be!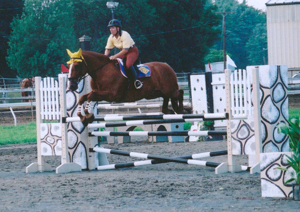 Tricia K. Babcock "The Traveling Horse Trainer" has a lifetime of experience. English, Western, Jumping. All seats, all levels. From the backyard to the showring. Problem horses and riders a specialty, with emphasis on nutrition, soundness, proper care of the horse, and proper fitting equipment, as well as the riding and training. I yield great results and am highly reliable, responsible, and love what I do. I offer reasonable rates and superb references from New England to Florida to California.
I have 54 years in the saddle and have ridden with some of the best, and still do. I've been a full time professional for 36 years. I show and ride all types, from jumpers to saddle seat to western. I have successfully competed in the Florida dressage arena and have done some judging as well . I have a keen eye for both horse and rider. I'm interested in veterinary care and for a while shod horses as well. I travel thru New England, primarily Connecticut, and have many successful horses and riders.
I currently train many horses in Connecticut and own two horses and one pony. In the winter months, I head down south to the west coast of Florida in the Venice, Englewood, Sarasota area, and freelance there from mid Dec to mid April. I also usually have an exceptional horse for sale. Please call or e-mail me. I'd love to hear from you, Trish.